BEST OF BOTH WORLDS !

With her unique mash up covers, she's won over a million hearts already. Vidya Iyer, who's better known by her stage name Vidya Vox, has become a YouTube sensation in just a year. Her music is fusion of Indian and western worlds. And these days fashion is also seeing a confluence of cultures. This due to globalisation, travel and advent of technology, projecting the fact that India is a true melting pot of world cultures with its own cultural identity. Take a look!
SARI
Sari is one of the worlds oldest and perhaps the only surviving unstitched garment from the past. Over the millennia, it has not only become a sensuous, glamorous all-time-wear for women, but also the 'canvas' for weavers and printers to create artistic weaves, prints and jewelled or gold-silver embellishments! Thus, in the modern world, it continues to be an economical and easy-to-wear garment, suitable for work, leisure or luxury. There have been numerous events when international stars have worn it on ramps, runaways and award functions and pulled it off with with élan .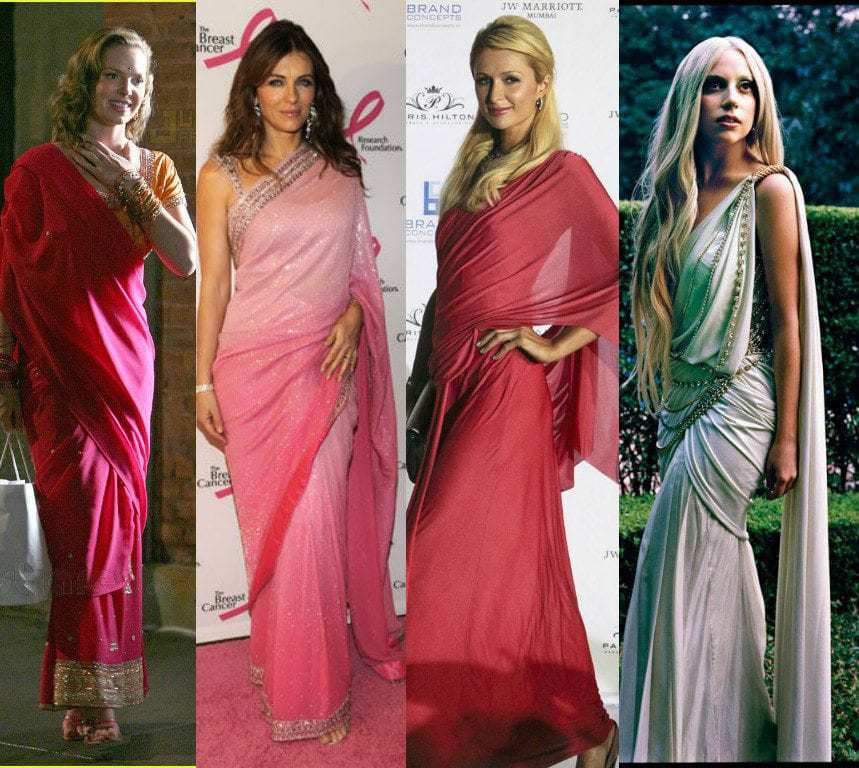 Katherine Heigl,                       Elizabeth Hurley ,                  Paris Hilton and                      Lady Gaga .
BINDI
In India, bindi is usually worn with saris and salwar kameez, is now more global accessory. The bindi today signifies different things to different people. For women in this part of the globe and even Europe, it is now a fashion statement and a symbol of changing culture in a globalised world. The bindi represents liberation. Young girls who happily wear the bindi now often worn as a tattoo, temporary or permanent, with their sweatshirts and jeans defy the 'unwritten' code that the bindi/tatoo goes only with Indian attire. Women in the West go gaga over the bindi and many of them sport it with their western attire.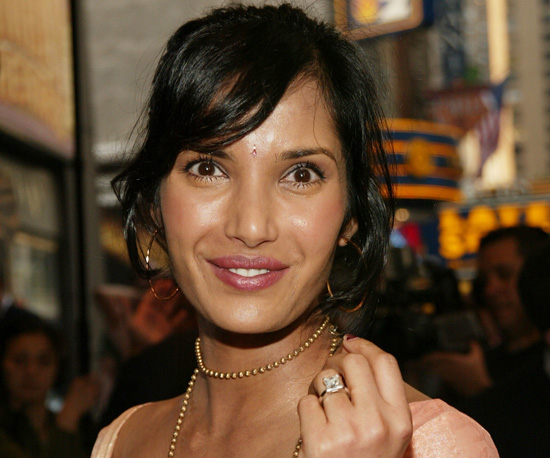 Padma Lakshmi
Padma was born in Chennai, but she was raised in Malibu, which would explain her California-girl pink bindi paired with matching lipstick and blush.
MAANG TIKA
It's true that head ornaments haven't received their share of attention in the past. But the trends have taken a turn for the good. From delicate pins to trendy maang tikkas and even mathapatti, head ornamentation finds itself in the spotlight. Available in a plethora options Chandbali, Jhoomar, Broad String , Diamond Drop, Mathapatti. These add opulence to the ensemble and you are set to make style statement.
Tips and tricks – A maang tikka is an opulent piece of jewellerysss; and like any accessory, it must be selected with care and attention. When choosing a maang tikka, pay attention to the forms that will flatter your facial structure, for example, brides with broad foreheads should opt for heavier maang tikkas or mathapattis. Brides with a slender face can flaunt delicate designs with a single diamond drop, or a thin string of stones.You can also use your necklace and pin it on the sides.
Deepika & Victoria Beckham looking resplendent with different designs of Maang Tika.
KAMARBANDH
A kamarbandh is usually worn with saree or lehenga. But you can accentuate your western outfit with a simple chain or a two-layered kamarbandh. Or you can also wear a chain kamarbandh with jeans for a Bohemian look. Doesn't Riri look just smashing?
HAATH PHOOL
The Hand Bracelet or Haath Phool is known by many names; i.e. Haath Kamal, Hand Chain, Hath Panja . The history of this Indian ornament is vast and rich. While haath phool literally translates to 'hand flower', kamal is the Hindi word for the Lotus flower, and both terms refer to the same ornament. Although it is popular as a bridal accessory, especially in North India and Pakistan, the haath phool has become a party-wear ornament that is now worn by women from across the world. It no longer has an exclusively Indian identity. In fact, Vogue declared 2015 as the year the haath phool would become a rage at the Oscars, the most high-profile celebrity event in Hollywood. Take cues from Selena Gomez…..
Lastly style yourself creatively, and don't forget to exude confidence.
As Coco Chanel said 'fashion fades ,only style remains the same'